Power quality analysers and DC meters

Energomonitor 3.3T1
Portable three-phase reference standard meter, comparator and power data logger in one instrument.
As a power data logger: measurement and logging of
Electrical power/energy parameters (RMS of current and voltage for both sine and distorted waveforms, phase angles, active, reactive, apparent power, PF etc.)
Basic power quality parameters (harmonic measurements, voltage and frequency deviation, unbalance indicators etc.)
Power Quality AnalyzerMarsen-PQP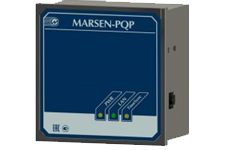 Marsen-PQP is a power quality recorder and analyzer.
Measurement and monitoring of power quality parameters specified in IEC 61000-4-30 and IEC 61000-4-7 standards with further transfer of measurement results to a PC (power quality test reports according to EN 50160)
Measurement and monitoring of basic power quality parameters (PQP)
Measurement and monitoring of basic electrical network parameters

Energotester PQP-A

Three-phase Power Quality and Energy Analyzer
Designed to measure and log electrical signals and power quality parameters as defined by IEC 61000-4-30 (class A)
Measurement and logging of basic electrical energy values in single- and three-phase networks including RMS of currents and voltages (no matter what their waveforms may be - sinusoidal or not), active, reactive and apparent power and energy
On-site connectivity and performance check of active/reactive power and energy meters and instrument converters of current, voltage, active and reactive power
On-site connectivity and performance check of single and three-phase electric energy meters without breaking into current circuits
Measurement of secondary circuit parameters (load power in secondary circuits of instrument transformers and voltage drops) as applied to Automatic Meter Reading and Billing systems
Measurement of losses in power transmission lines
KWH-MARSEN

C KWh meter is especially designed for DC energy monitoring in DC electric railway systems or for other transport DC power applications.
Basic electric energy input/output values are recorded in the form of profiles (current, voltage, power, energy, traction line voltage) and displayed as tables or graphs
Selectable averaging interval (1 s to 30 min)
Logging capacity of input/output values:
1 day (min) – at 1 s interval
3 years (min) – at 30 min interval
Accepts signals from two different current sensors via its two galvanically isolated (with an external isolating transformer) current measurement channels: e.g. from locomotive motor and on-board apparatus, or from on-board lighting and auxiliaries
Energy values are recorded for both directions
Displaying cumulative values for energy of different types